For the next event,
visit the Calendar page
and look for red text.
For women in philosophy,
visit the PhilosoFINDER site
and make a suggestion.
For Stoic Saturdays,
access the Google Doc
for the upcoming discussion.
Stoic Homework for all groups:
open this Google Doc for fun
activities between meetings.
For upcoming videos,
visit the YouTube channel
and click SUBSCRIBE.
For StoicDan's Self-Reliance Monologues (mostly 2-3 minutes each), watch here
For StoicDan's new series called Dialogues in Philosophy (10-15 minutes), watch here
For Stoicon-X Orlando videos (from the event 11-13-2021), watch here
NEWS! Sign up for StoicDan's free class in business leadership & ethics. Sponsored by UCF Business Incubator. Created for startups and entrepreneurs. Learn how to apply philosophy to running a business. Hybrid event (in-person and online). RSVP today!
StoicDan appeared in Orlando Life magazine (an article on building community).
OVERVIEW. StoicDan is the organizer of 7 philosophy meetups, including Orlando Stoics, which is the third largest Stoic group in North America, and Socrates Cafe, which is a 7-year old discussion group in Tampa, Florida. Dan is also a public speaker on Stoicism, Minimalism, and American Transcendentalism, and he often connects these topics with civil discourse, common ground, Buddhism, Taoism, and women in philosophy. He's presented at 6 Stoicon conferences (2017 Toronto, 2018 London, 2019 Athens, 2020-2022 online). He has also interviewed over a dozen Stoic scholars for the Stoic Fellowship quarterly newsletter. His YouTube channel has a video series called Self-Reliance (2-3 minutes each), plus Lectures (15-20 minutes each) and Dialogues in Philosophy (15-20 minutes each)..

You're invited to join StoicDan's philosophy groups across Central Florida. All are free and open to the public. All are secular and no advance reading is needed. Themes include dealing with difficulty, avoiding anger, managing expectations, keeping focus, identifying ethics and fulfillment, and building community.

StoicDan's areas of interest: Stoicism, Minimalism, American Transcendentalism, Practical Buddhism, Secular & Humanistic Philosophy, Civil Discourse, Critical Thinking, Skepticism, Deep Conversations, Community Resilience, and Interfaith (Common Ground) projects.

To book a lecture or send feedback: write to AskStoicDan@gmail.com or use the contact page.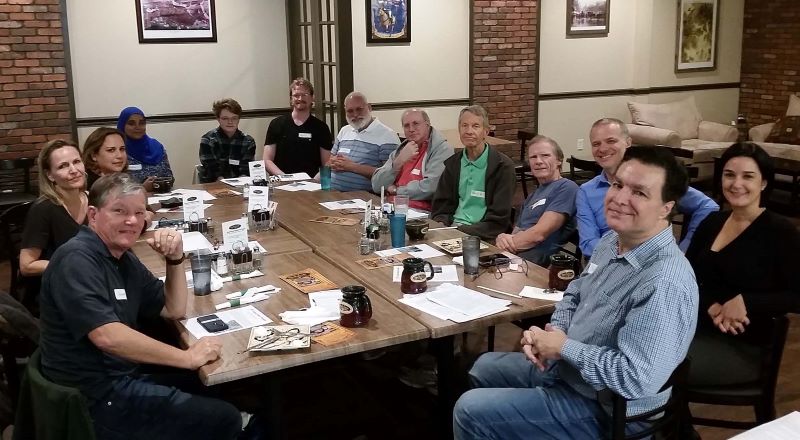 Lecture "100 Years of Science" in Altamonte Springs, 11-26-2019.